Stairbuilders and Manufacturers Association
Stair Academy
Stair Balustrade 
Core Design and Installation

.
The Stairbuilders and Manufacturers Association's Stair Academy presents Stair Balustrade, an instructional class focused on teaching post-to-post and over-the-post handrail theory, skills, and basic installation practices. The fixtures, materials, and instructional workbook required for hands-on balustrade installation training are provided to each student. 
3-Day, Hands-On Course

Balustrade Theory with Calculations and Layouts

Newel, Baluster, and Handrail Placement

Over-the-Post and Post-to-Post Techniques

Cable, Iron, and Wood In-Fill Styles

Radius Level Balustrade Layouts
Attend the
Next Session

.

Stair Balustrade is an 3-day, hands-on instructional course focused on core design and installation of stairway systems.  Find more information below.  Please contact the SMA Office with questions at sma@stairways.org or call 877-500-5759.

Course
Testimonials

.
Check out what our Students are saying!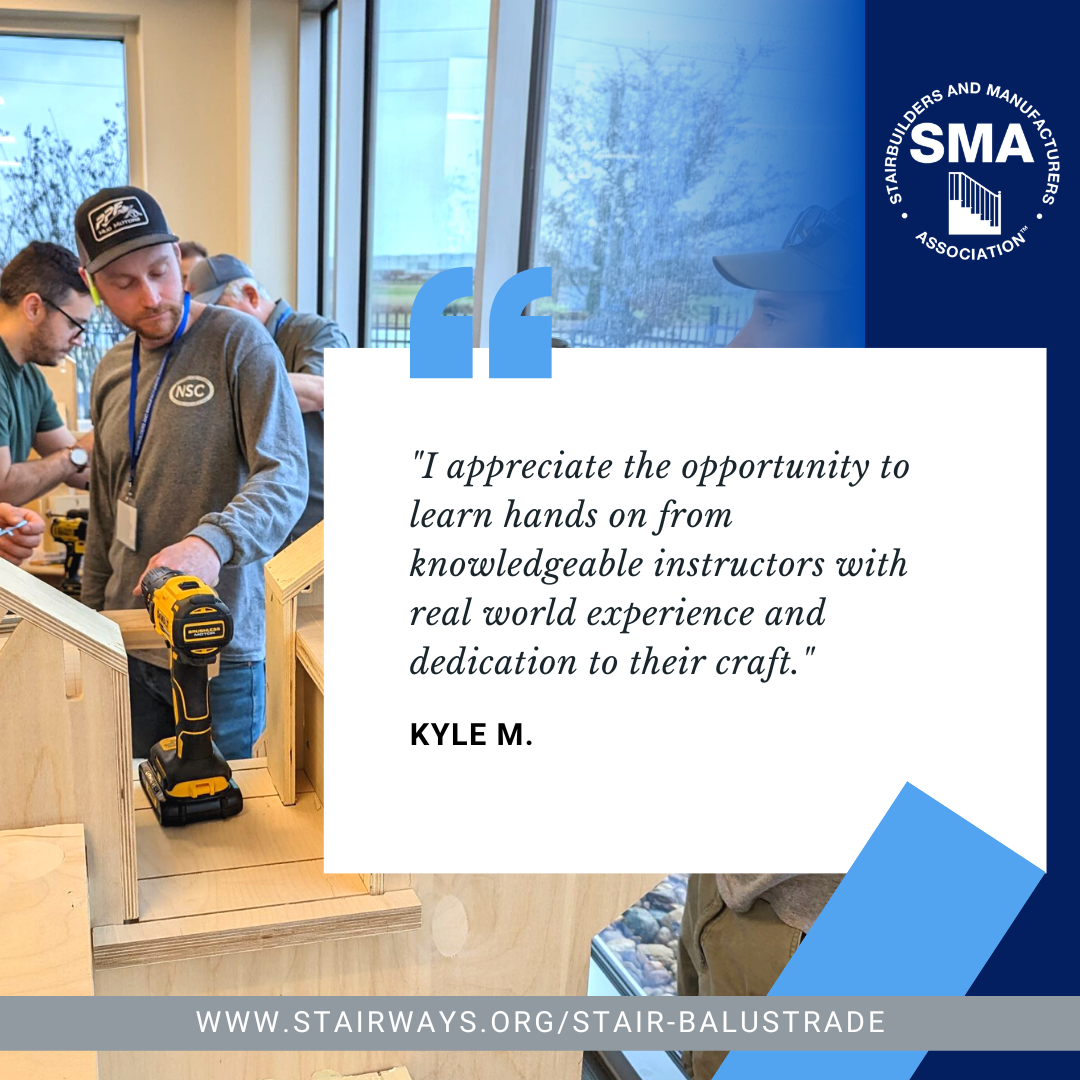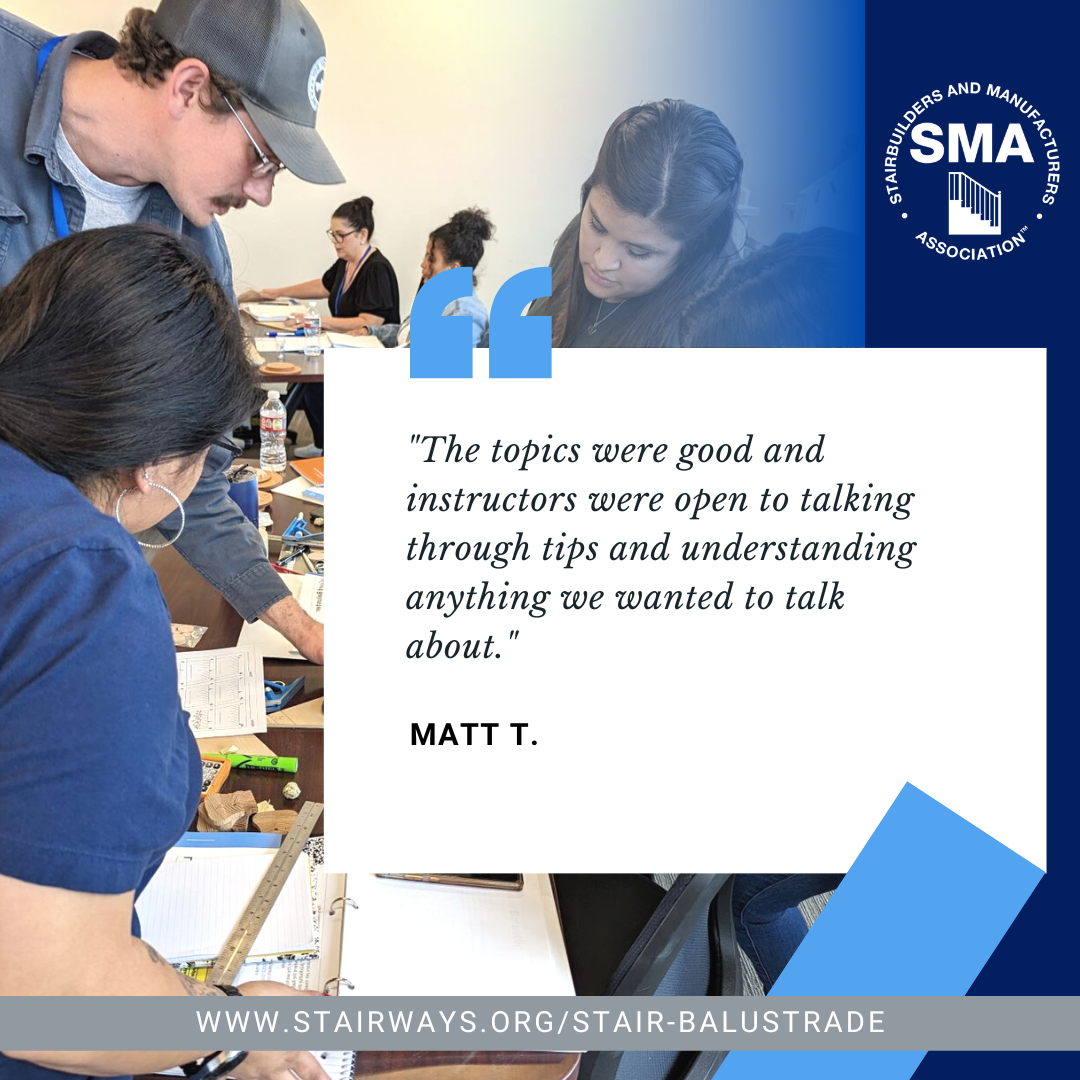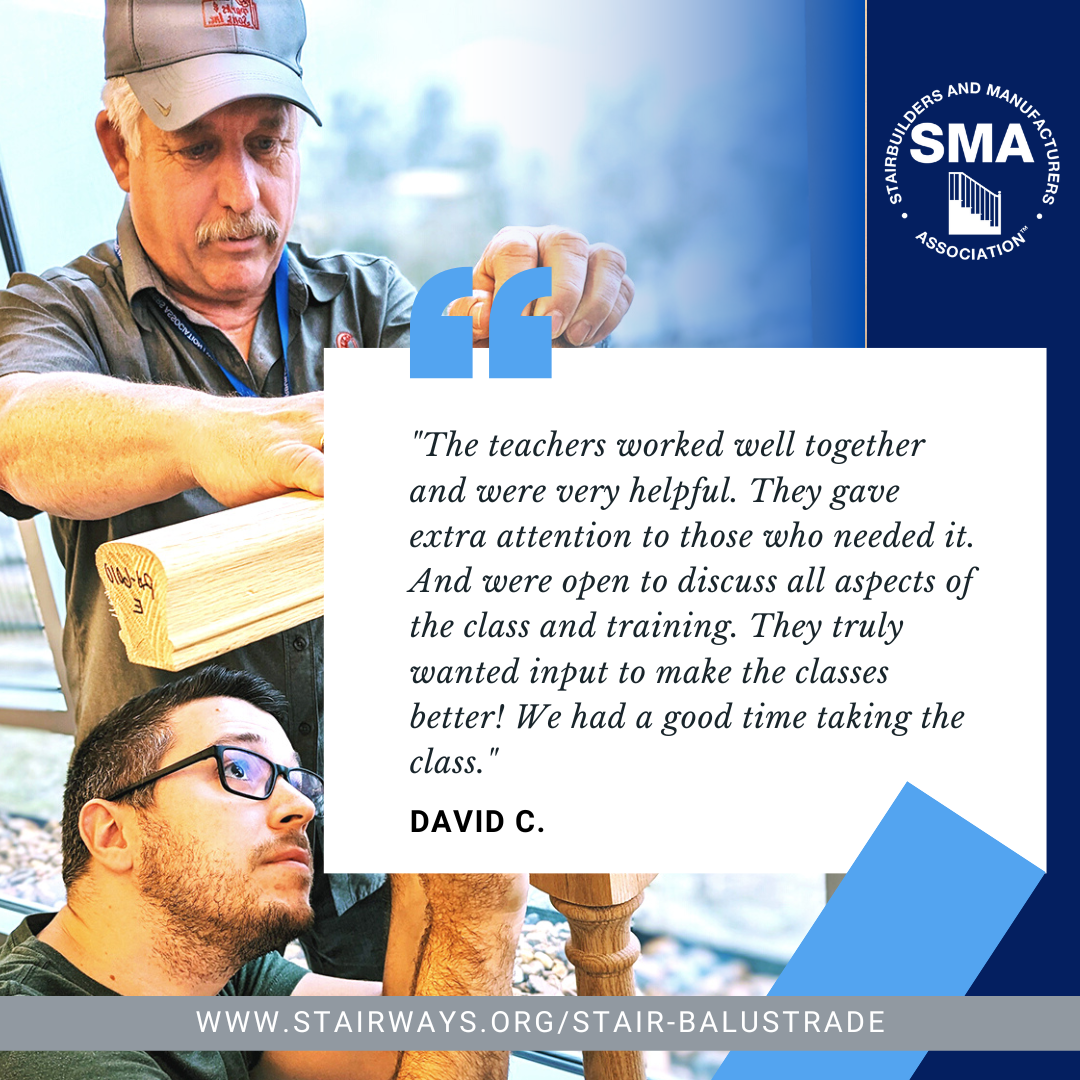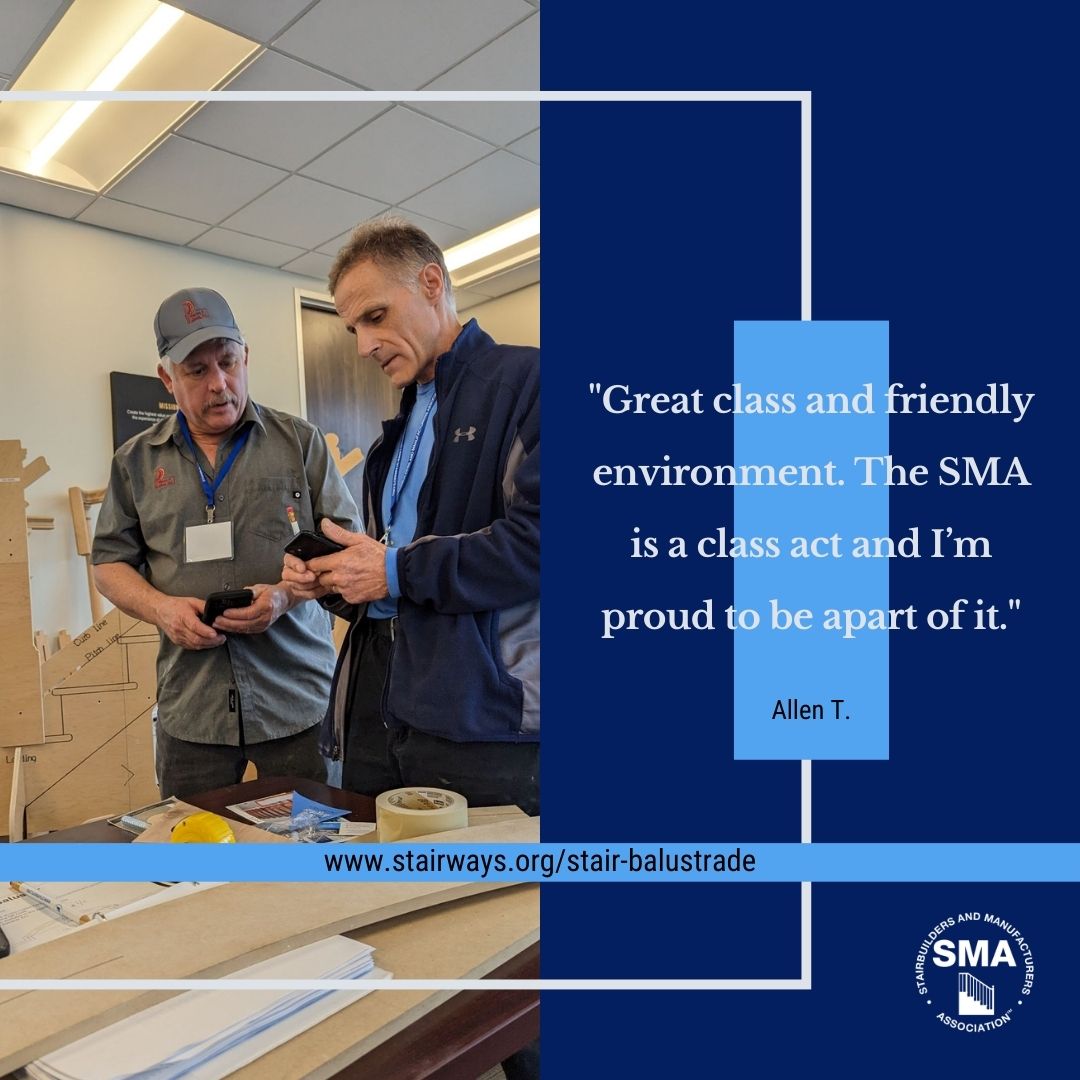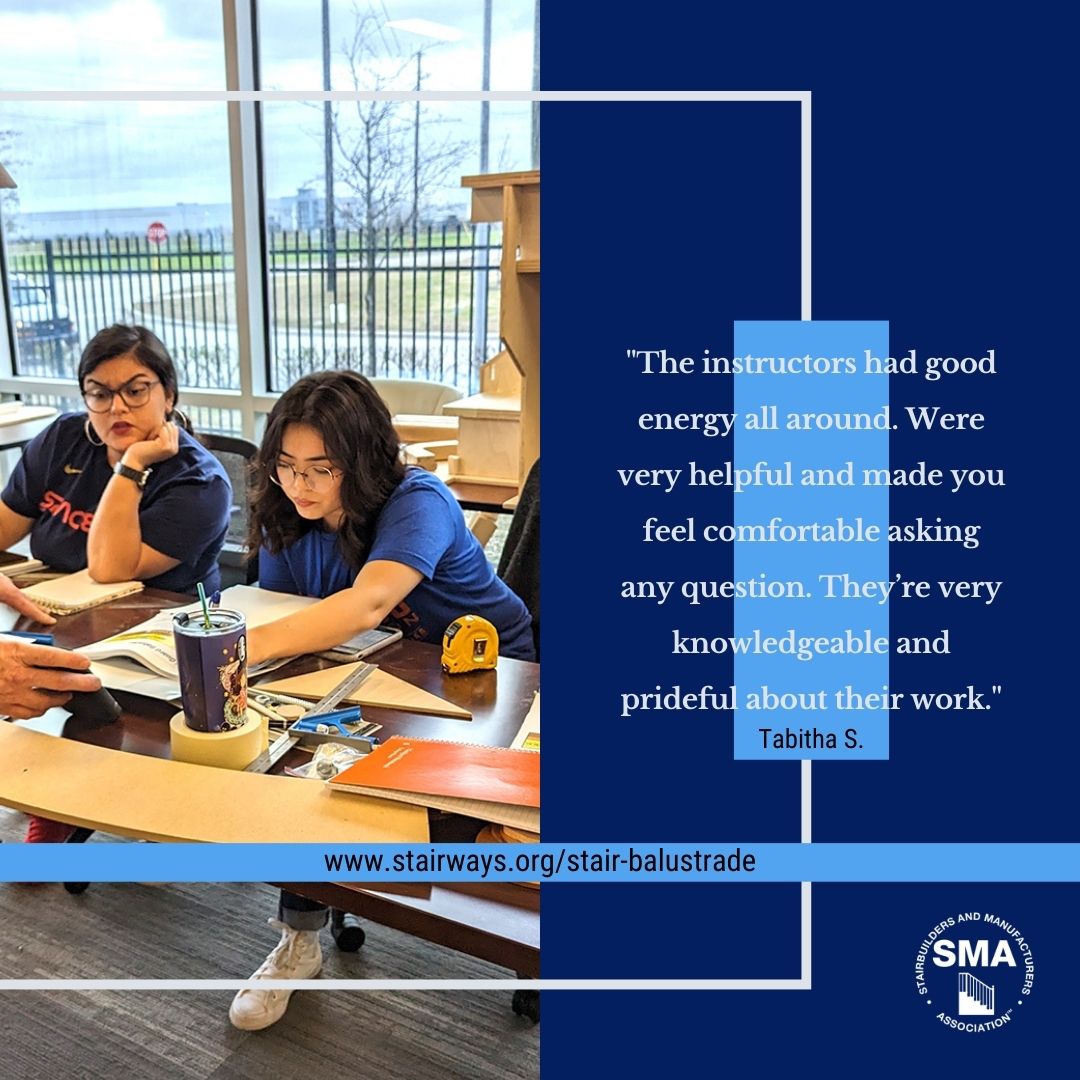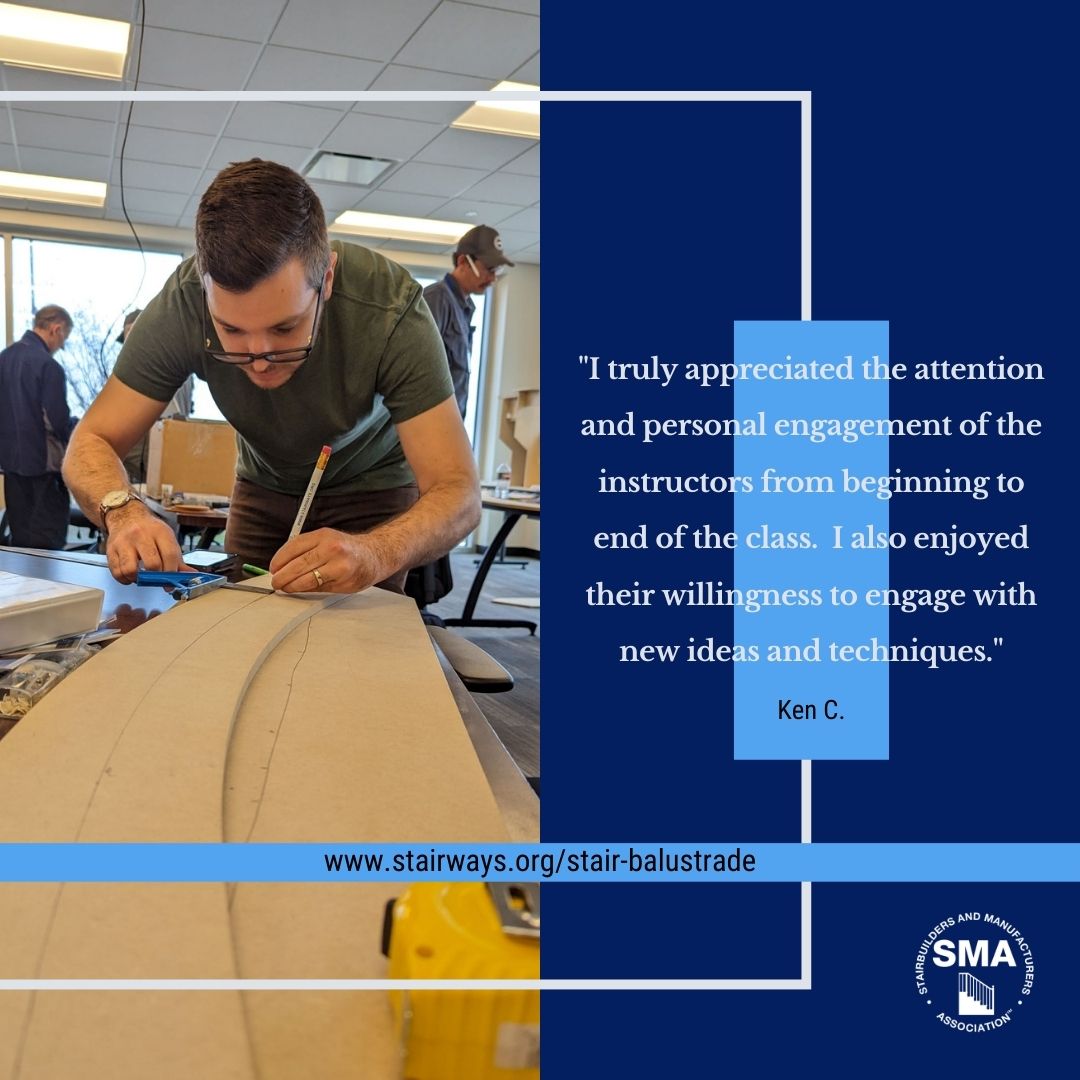 SMA Stair Academy - Stair Balustrade
3-Day Course
The Stair Balustrade instructional class is a 3-day course that focuses on installation best practices for post-to-post and over-the-post systems. The class offers hands-on instructional training with student workstations specifically designed to enhance the understanding and practice of balustrade layout from the starting newel through handrail fittings and wall termination. The class teaches the student how to calculate handrail height, baluster spacing, lengths, and newel placement. Special focus is given to corrective methods for issues as they arise without stopping the workflow.
Seasoned stairbuilders teach the course. It covers everything from checking paperwork for proper materials to calculating newel block depths and selecting proper baluster lengths. Before making the first cut, the student learns to layout the whole balustrade,  including flights, landings, and walking surfaces. Throughout the process, students also learn various newel placement techniques and are exposed to a variety of mounting hardware. Students will gain invaluable insight and the ability to finetune projects, as necessary.
The class benefits both the shop craftsman and the sales representative. It provides a better understanding of the preparation needed for support accessories and the take-off list used in the balustrade.
Learning Objectives: 
Participants will be able to plan layouts of balustrade locations on flights, starting steps, landings, and balconies on open, closed, and buttress configurations.

Participants will be able to create elevation layout locations for newel locations in notched and surface applications.

Participants will be able to design layout options of landing tread, fascia/apron, and trim.

Participants will be able to organize layout locations for baluster grouping, handrails, fittings, fitting connections, and balusters in drilled and plowed installation.

Participants will be able to use various types of accessory hardware and connection methods for newels, balusters, handrails, and handrail fittings.

Participants will be able to develop baluster renovations, cable installation, horizontal and panel infill.
Keep up to date with all of the latest code changes and design inspirations. No membership required.
Membership in the SMA is an invaluable resource that allows stair industry professionals of every type to advance their careers through networking, engaging in continuing education, keeping up with changes within the industry, and accessing new products.