Stairbuilders and Manufacturers Association
Visual Interpretations of IRC Stair Codes

.
Understanding technical stairbuilding concepts and important standards can sometimes be difficult without visual representations. For this reason, the SMA has published expertly designed graphic illustrations of a variety of stairway codes and regulations. In addition to other SMA stair code books, the visual interpretations manuals have provided outstanding utility to industry professionals, covering code requirements relating to categories like headroom, handrails, guards, measurements, and more. These guides are great to have on hand as vocational resources that can be referenced as needed. These visual publications are updated regularly so that stairbuilders and lay people alike can stay up to date on the latest codes and better understand industry requirements.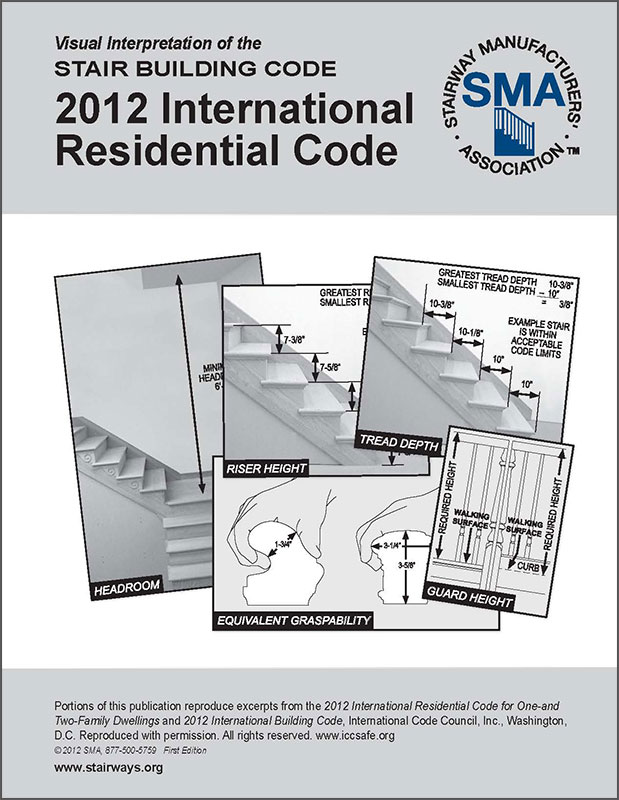 Drawings and Photos explain the technical terms and many significant changes in the stair building codes since 2006.
Headroom
Walkline location
Measuring carpeted stairs
The definition of "flight"
Measuring winder treads
Handrail height
Guard height determination
Currently the 2009 and 2012 IRC are the model codes most frequently adopted into law by most jurisdictions. Always check with your building safety department for local modifications. Sorry Orders to be shipped outside the US must be ordered by emailing sma@stairways.org
Quantity Ordering Options
As low as $1.50 each when ordered in quantity. Shipped to arrive in 5-7 days.
Sorry Orders to be shipped outside the US must be ordered by emailing sma@stairways.org
5 copies:
$19.28
(P&H included)
15 copies:
$51.95
(P&H included)
30 copies:
$80.40
(P&H included)
90 copies:
$148.95
(P&H included)
180 copies:
$295.90
(P&H included)
450 copies:
$570.00
(P&H included)
Keep up to date with all of the latest code changes and design inspirations. No membership required.
Membership in the SMA is an invaluable resource that allows stair industry professionals of every type to advance their careers through networking, engaging in continuing education, keeping up with changes within the industry, and accessing new products.